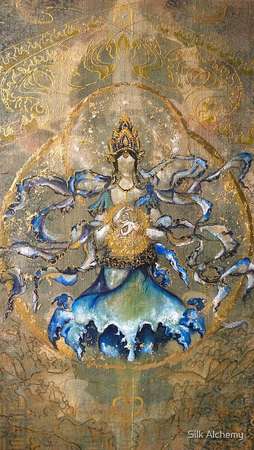 Queens of the Mandala Online Course
In this 6-week online course we'll step into the mandala of the five female Prajna Buddhas and the elements of earth, fire, water, air and space they inhabit. Through meditation, discussion, ritual, music and creativity they'll reveal to you the wisdom they exemplify.
Led by Kamalamayi
The retreat offered at the end of this course will help us go deeper into the wisdom depths of the Prajna Buddhas in the beautiful surroundings of Vijayaloka.

Led by Kamalamayi
Programme
| | |
| --- | --- |
| 27 June 2023 | Introduction to the Prajnas |
| 4 July 2023 | The blue Prajna, Locana |
| 11 July 2023 | The yellow Prajna, Mamaki |
| 18 July 2023 | The Red Prajna, Pandaravasini |
| 25 July 2023 | The green Prajna, Green Tara |
| 1 August 2023 | The white Prajna, Akasadhatesvari |
Is it okay if I can't make every week?
The cost covers the entire course, and it is best to come every week. If you'd like to come but there is one or two weeks you can't make, please contact us before booking.
What should I wear?
There are no special requirements, just whatever is comfortable to sit in.
Do I need to be a Buddhist?
The course is exploring particular Buddha figures, but you do not need to identify as a Buddhist to join.
Where to Find Us
We're in Newtown, a few minutes walk away from the station.