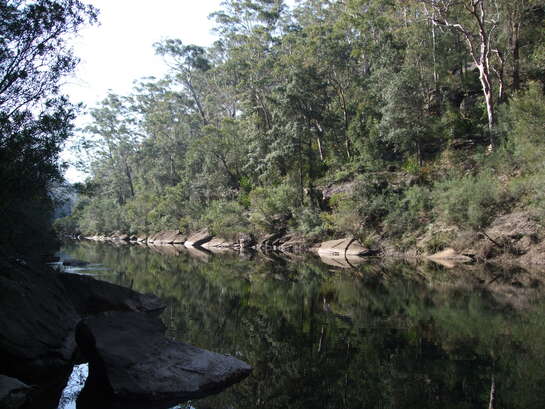 Working
Spring Working With Nature Retreat
Friday 25 October 2024 – Sunday 27 October 2024 at Vijayaloka Retreat Centre in Minto Heights
Every month new people come on retreat at Vijayaloka to take their practice of meditation and the Dharma deeper in ideal conditions with like-minded people. Keeping the centre running and looking beautiful depends on the generosity of many people, not only financially, but practically - running and supporting retreats, performing administration work, buying supplies, and of course the practical maintenance of the retreat centre.
On our Working with Nature weekends we have an opportunity to give back by coming together for a weekend to do the work and maintenance needed to keep Vijayaloka looking beautiful and suitable for our holding retreats. The work normally involves both working on the buildings and in the surrounding bushland. Many people who enjoy coming to Vijayaloka find participating in these weekends a great way to give back in a meaningful and practical way and we have found that they are enjoyable and productive for newcomers as well as old hands.
In addition to the maintenance work, the weekend will include some gentle study, discussion and meditation create a retreat experience with a dharmic theme.
We ask only for $60 to cover the food and accomodation costs for the weekend. Any additional donations on top of that are much appreciated. Suitable for all levels of experience, including complete beginners.
Typical Programme
Time
Activity
Friday
6:30pm
Dinner
Saturday
7am
Meditation
9am
Breakfast
10am
Work Period
1pm
Lunch
3:30pm
Work Period
6pm
Dinner
7:30pm
Evening activity (movie, campfire, etc.)
Sunday
7am
Meditation
9am
Breakfast
10am
Work Period
1pm
Lunch
2pm
Clear up and depart
Do I need to have any special skills? How intensive will the work be?
You will need to have a reasonable amount of physical fitness, but you don't need to have any special skills and we will be able to find something suitable for almost anyone. If you're unsure, please contact us before booking.
Do I need to be a Buddhist?
No, many people find our Working With Nature retreats an enjoyable way to spend time in the bush regardless of if they consider themselves as Buddhist or how long they've been attending our activities.
What does the cost include?
The retreat cost covers the full cost of the retreat, including all food.
When does the retreat start and end?
The retreat will begin with dinner on the Friday evening at 6:30pm. You are welcome to arrive any time from 5pm. It is normally not advisable to plan to arrive later than this. If you think you might need to, please contact us before booking.
We will finish on the Sunday afternoon, around 3pm.
What will the accommodation be like?
Vijayaloka provides simple, but comfortable accommodation. Living communally is an important and enjoyable part of the retreat. We will be in shared single-sex rooms with 2-4 people in each, and will eat together communally.
Can I have a single room?
Vijayaloka has two single rooms that can be allocated to people with special requirements. If you require a single room to be able to attend, please contact us before booking to ensure availability.
What will the food be like?
Many Buddhists eat a vegan diet as an expression of non-violence. As such, all food will be vegan.
If you have any allergies that aren't listed on the booking form, please contact us before booking to ensure we can cater for you.
What do I need to bring?
Unless you are coming a long distance we ask that you bring your own sheets and blankets or a sleeping bag (we have plenty of pillows).
It can be surprisingly cold in the early mornings and evenings, and quite hot in the middle of the day, so bring clothes suitable for all weather: we suggest you bring layers as well as a warm jumper or jacket. You'll also need a good sun hat and suitable shoes, especially if you want to bushwalk. There is a river that you can swim in, so you may also want to bring swimwear.
In addition you'll need to bring any toiletries you need including a towel, insect repellent, and sun block. It is also a good idea to bring a torch if you have one and you may also want to bring a notebook and pen.
The Team

Where to Find Us
The retreat is at Vijayaloka Retreat Centre in Minto Heights.
Driving
Vijayaloka's address for use in sat-navs is 36 Howard Road, Minto Heights NSW 2566. Travel time from central Sydney is about one hour.
There is a blue sign at Vijayaloka's entrance. Enter there and then park the car park immediately on your right.
If you are able to offer a lift to others travelling from Sydney, please let us know.
Train
Vijayaloka is very easy to access by train. The closest train station is Minto which is on the T8 Airport Line towards MacArthur and Campbelltown. Travel time is about 50 minutes from Central.
We can normally arrange for those travelling by train to be picked up from the train station. Please indicate when booking if you need to be picked up and aim to be at Minto around 5:30-6pm. We will contact you shortly before the start of the retreat to confirm. Alternatively you can take a taxi from the bottle shop across the road from the station, or an Uber.
If you are travelling from outside Sydney and don't have an Opal card, you can use any contactless credit/debit card to travel on Sydney Trains.