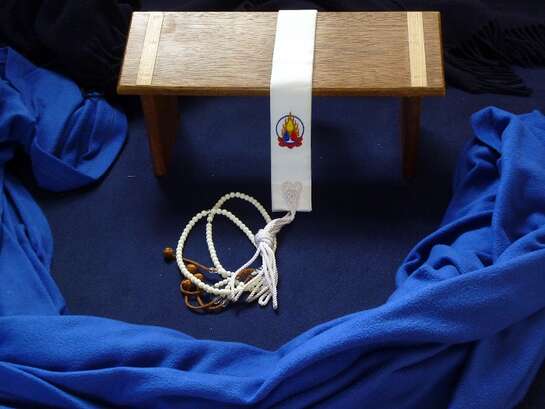 Order/GFR
Men's National Order Gathering
Monday 11 November 2024 – Thursday 14 November 2024 at Vijayaloka Retreat Centre in Minto Heights
This retreat is open only to Order members.
Annual National Order Gathering for men.

Led by Dharmaraja
Book Now
Please book so we know how many are coming, but pay directly to the organiser.
What is the food at Vijayaloka like?
All food will be vegan. If you have any allergies that aren't listed on the booking form, please contact us before booking to ensure we can cater for you.
Can I have a single room?
Vijayaloka has two single rooms that can be allocated to people with special requirements. If you require a single room to be able to attend, please contact us before booking to ensure availability.
What do I need to bring?
Unless you are coming a long distance we ask that you bring your own sheets and blankets or a sleeping bag (we have plenty of pillows).
It can be surprisingly cold in the early mornings and evenings, and quite hot in the middle of the day, so bring clothes suitable for all weather: we suggest you bring layers as well as a warm jumper or jacket. You'll also need a good sun hat and suitable shoes, especially if you want to bushwalk. There is a river that you can swim in, so you may also want to bring swimwear.
In addition you'll need to bring any toiletries you need including a towel, insect repellent, and sun block. It is also a good idea to bring a torch if you have one and you may also want to bring a notebook and pen.
Where to Find Us
The retreat is at Vijayaloka Retreat Centre in Minto Heights.
Driving
Vijayaloka's address for use in sat-navs is 36 Howard Road, Minto Heights NSW 2566. Travel time from central Sydney is about one hour.
There is a blue sign at Vijayaloka's entrance. Enter there and then park the car park immediately on your right.
If you are able to offer a lift to others travelling from Sydney, please let us know.
Train
Vijayaloka is very easy to access by train. The closest train station is Minto which is on the T8 Airport Line towards MacArthur and Campbelltown. Travel time is about 50 minutes from Central.
We can normally arrange for those travelling by train to be picked up from the train station. Please indicate when booking if you need to be picked up and aim to be at Minto around 5:30-6pm. We will contact you shortly before the start of the retreat to confirm. Alternatively you can take a taxi from the bottle shop across the road from the station, or an Uber.
If you are travelling from outside Sydney and don't have an Opal card, you can use any contactless credit/debit card to travel on Sydney Trains.